WELCOME TO
APART HOTEL STADTGARTEN
Garni***Superior

ÜBERLINGEN
The Stadthotel surrounded by greenery
Vacation at Lake Constance, in Überlingen next to the city garden. Quiet and beautiful location. Opposite the thermal baths, in the spa district of Überlingen, 50 meter
to the lake and the promenade. Only a few minutes walk to the city centre.
With over 75 beds, a cosy breakfastroom with 60 seats, a Mediterranean sun terrace with 30 seats, garage and parking spaces for cars, bicycles and an indoor swimming pool, the Apart Hotel Stadtgarten Garni***S offers the greatest comfort for your holiday.
Enjoy our beautiful rooms or holiday flats with elevated equipment, with balconies towards the lake or the city garden, terrace, indoor swimming pool with pleasant 28 °C, Finnish sauna, infrared sauna, relaxation room, fitness garden and our sun lawn.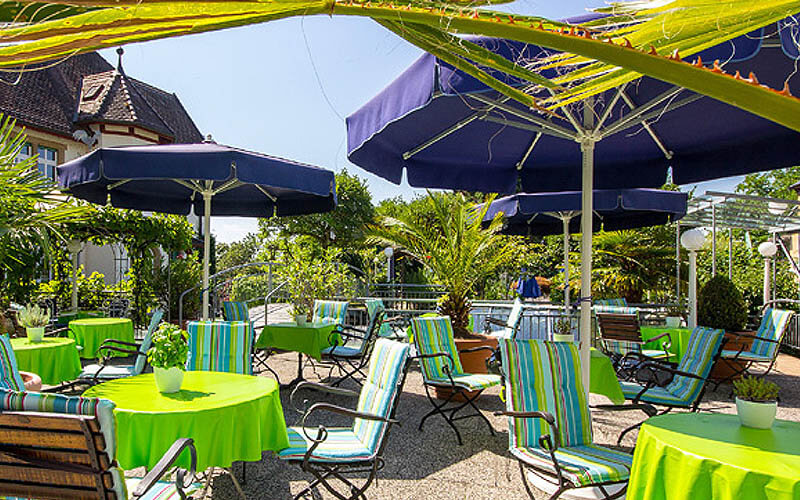 Arrive first
Our location close to the city in the middle of nature, right next to our enchanting city garden, promises charming,
attractive and relaxed holidays.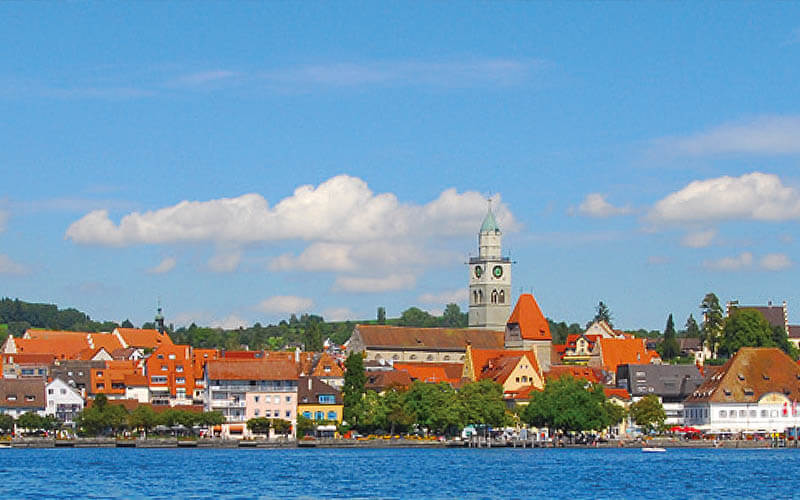 Really close to Lake Constance
Within a short distance you can reach the lake, the promenade, the town centre, the thermal baths of Lake Constance, the sailing school, the landing stage for ships, Kneipp facilities and the kursaal.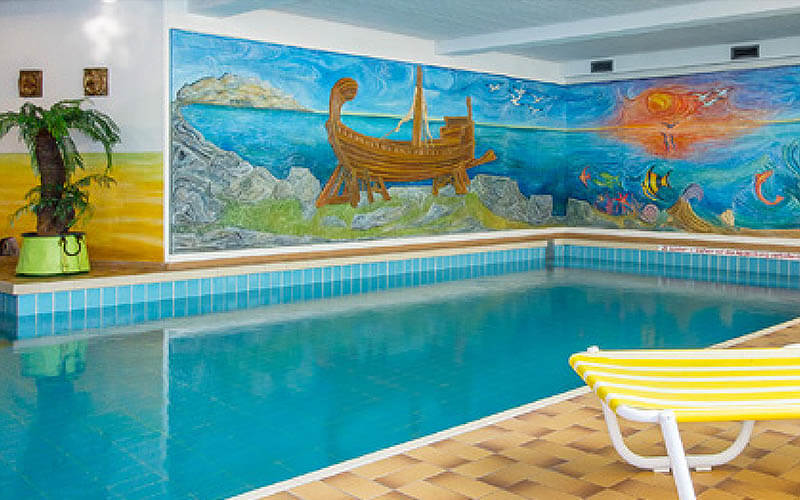 Wellness
Indulge yourself in our indoor pool 28 °C, sauna, infrared cabin and fitness area. We offer wellness massages by appointment.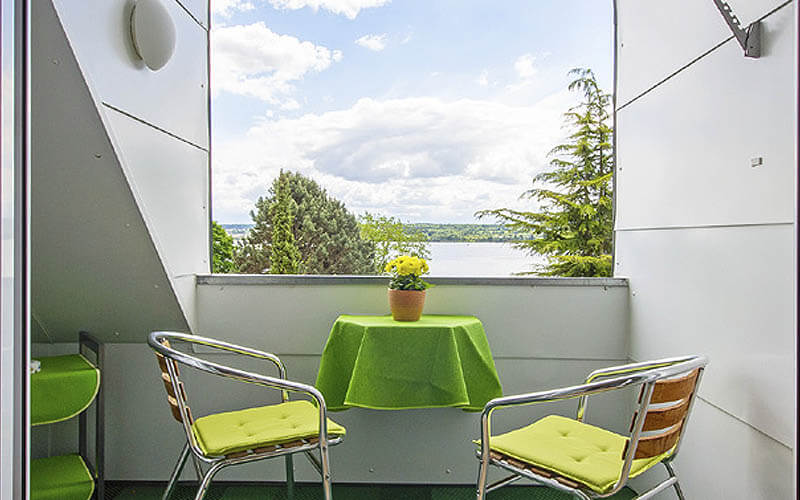 Privacy with lake view
Be inspired by the Lake Constance atmosphere and enjoy the personal atmosphere in our house. Your holiday, the most beautiful time of the year.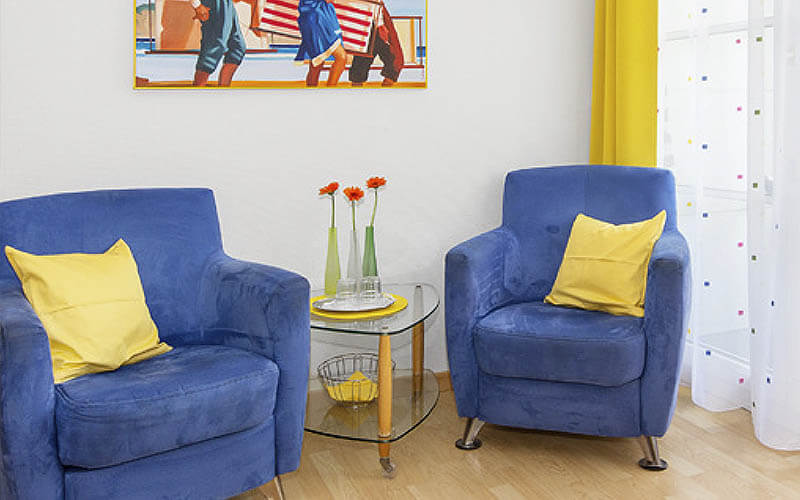 Modern and quiet
Our comfortable rooms are easily accessible by lift. Elevated equipment: balcony towards the garden or lake side, shower, WC, hairdryer, shower gel, phone, TV, WLAN, safe, minibar individually equipable, bathrobes on reservation.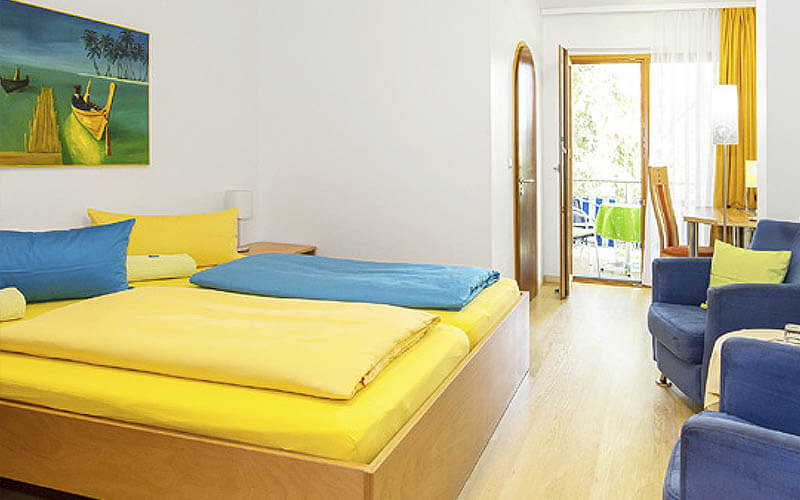 Exclusive and relaxed
Discover our excellent services. Make yourself at home and relax. We bring you into holiday mood and are there for you.
REVIEWS
That's what our guests say:
Dear family Hilzinger,
we were allowed to spend a wonderful week in your hotel and would like to thank you again for your hospitality.
Many greetings family Schwarz
OUR FEEL GOOD OFFER
Wellness
Wellness area
Due to the great importance of water, it was no coincidence that it was counted among the four primal elements by the earliest philosophers. So it is not surprising that water deeply touches our senses. Experience water in all its abundance with us at the Apart Hotel Stadtgarten.
Every year our indoor swimming pool receives a commendation for its good hygienic water quality.
We offer you a pleasant bathing temperature of 28°C.
Sauna and Infrared
The small Finnish sauna and the infrared sauna (Physiotherm) with 42 °C are located directly in the wellness area – especially against tension and other aches and pains…
The classic Finnish sauna at 90 °C is more suitable for experienced sauna users.
Our saunas are working with coins (2,- / 1,- / -,50 €) that are available during the opening hours of the indoor swimming pool. You can use the facilities on your own or as a couple.
Furthermore, we offer a relaxation room and a fitness garden.
Sunbathe
Stay at the sun, enjoy warmth, get a healthy tan and a relaxed appearance – the sun feels good.
Überlingen is the leader in Germany when it comes to sunshine hours. Enjoy the southern flair where palms, tropical fruits and figs grow. In the city park, diagonally opposite the Apart Hotel Stadtgarten, there is a wonderful open sunbathing lawn with old trees and direct access to the lake
Now open: "Uferpark West" is being created, which begins right next to our front door. You can look forward to even more relaxation, access to the lake and a magnificent city park with sunsets that will delight your heart.
Heat treatments
Having warm thoughts when you're going to be touched.
Warmth is good for people – for this reason we offer various heat treatments in our bathing area so that you can warmly recommend us to others:
Infrared heat sauna and Finnish sauna
And then go for a swim or relax in the relaxation room. You can also book the sauna privately for a fee or a massage treatment (booking at the reception).
Just enjoy your time.
Fitness
Make exercises in our fitness garden. From the stepper to the bicycle, different equipment is available.
Just the thing to do something on holiday.
And then go for a swim or relax in the relaxation room. You can also book the sauna privately for a fee or have a massage treatment (booking at the reception).
Just enjoy your time.
Relaxation room
Here you can find peace and quiet.
After swimming, lie down in the well-heated room, put your feet up, let yourself be carried away into a pleasant relaxation with spherical music.
Refreshed and relaxed, you will enjoy your holiday even more.
Please understand that admission is only permitted from the age of 16.
Our high-quality  wellness massages also take place in these rooms (booking at the reception).
DID WE AROUSE YOUR CURIOSITY?
Send us a request!
Or are you interested in one of our holiday packages?
info@hotel-stadtgarten.de